Willén promoted to full professor at NHH
Alexander L. P. Willén (32) at the Department of Economics has been promoted to full professor. He completed his Ph.D. only three years ago. `An extremely talented researcher´, Professor and Head of Economics Eirik G. Kristiansen says.
This week Alexander Willén was promoted to full professor at NHH. He has been a tenure-track assistant professor at the Department of Economics and a researcher at Norwegian Centre of Excellence FAIR for three years.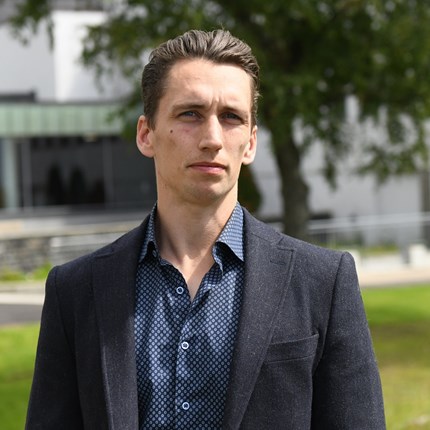 Professor Eirik Gaard Kristiansen is head of Department of Economics:
`Willen is an extremely talented researcher. He was recruited internationally to NHH in a tenure-track position. This clearly shows that the tenure-track system works as it should: We are able to attract top international talent´, Professor Kristiansen says.
Willén completed his Ph.D. in Policy Analysis and Management at Cornell University in 2018. He holds his master´s degree from Cornell and bachelor degree from Georgetown University. His fields of expertise include labor economics, public economics and economics of education.
The committee points out that Professor Willén has been an incredibly productive researcher, with research at the intersection of labor, public finance, and education. Despite having finished his Ph.D. so recently, Willén has established himself as a leader in the field.
Alexander Willén has published nine papers in peer-reviewed journals, of which seven are on NHH's list of journals granting points for tenure; two in general top journals, five in top field journals. Since one of these is single authored, he has obtained eight publication points during his three years in the tenure track position.
The committee describes Willén´s productivity as an extreme level of productivity:
«Although he completed his Ph.D. only three years ago, Dr. Willén has been remarkably successful establishing himself as a leader in labor economics. The quantity, quality, and breadth of his research contributions are striking for someone only three years out of graduate school. He is also widely recognized in the profession, and has presented his work widely at conferences and universities around the globe».